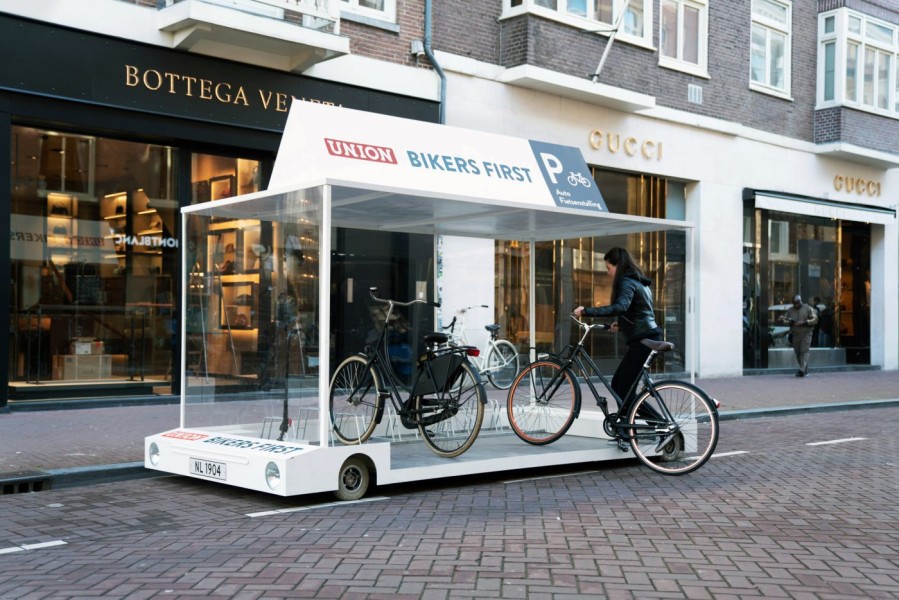 Author: Josep Laborda (Factual)
The founder of Scooter Map, an app to find, ride and charge electric kick-scooters from the most popular brands, had an even more brilliant idea (sorry, MaaS came much before!). In a sunny day of late April 2019, he dragged a table and chair out to a vacant parking space near San Francisco City Hall and worked from there for the day, turning it into a pop-up co-working space at the very affordable cost of $1.50 an hour (that's what the parking meter would cost him, or even much less when the cost would be split with other "co-workers"). He posted a picture on Twitter and it rapidly went viral, with other fellows joining him (it's only natural that some of them came by riding a shared electric bike or moped, see the picture!). So he went a bit further and created the WePark movement that has inspired other entrepreneurs in more cities do the same.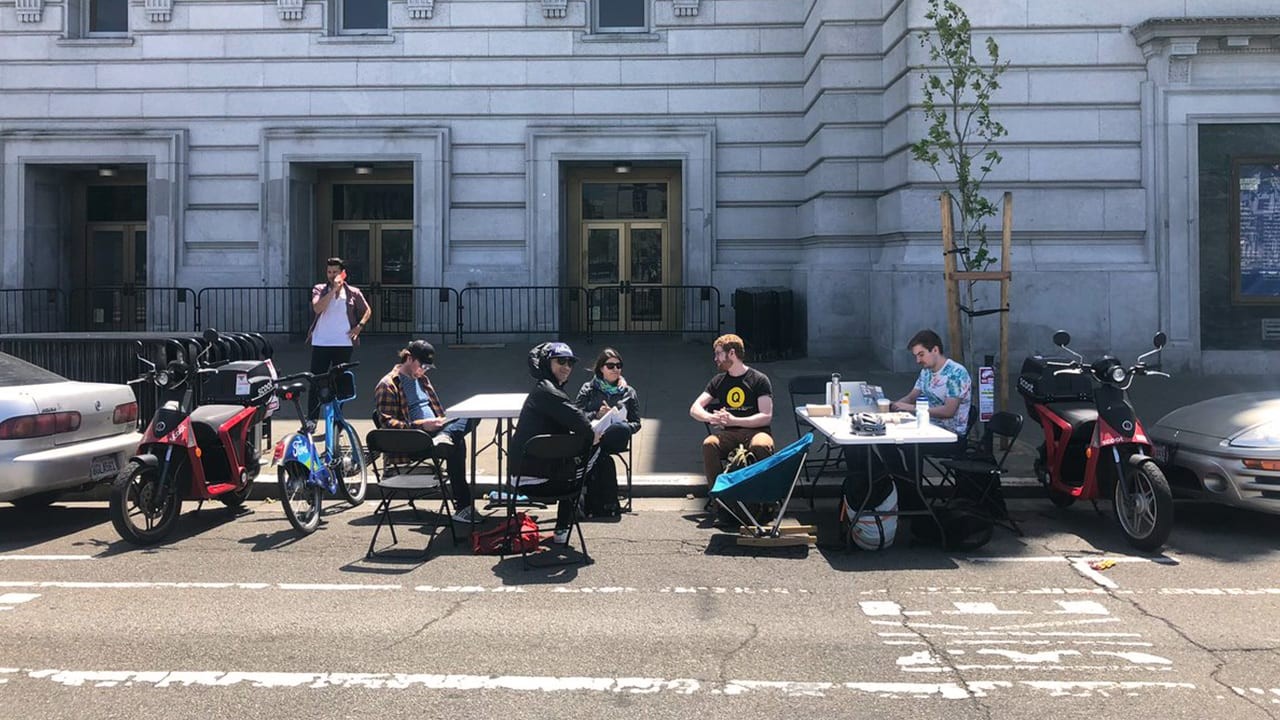 Obviously, the WePark stunt had some flaws, including the fact that you need a permit to run any economic activity, such as a co-working space (apart from "paying" for renting that space). But you can get a bit more creative and hack the rules: only a few weeks before, in Amsterdam, the famous Dutch bicycle brand Union designed a parklet on wheels with space for 8 bikes and… attached a license plate to it, making it legal, and so replaced an ordinary paid parking spot for cars in Amsterdam's poshest shopping street with parking space for 8 bicycles at the very affordable cost of €0.5 per hour (€4 per hour is the cost to park a car in the city centre). Again, the idea was meant for cheap bicycle propaganda (not for actual implementation, at least initially!), and so does not consider critical aspects such as implementing an effective booking and payment system for the users, or ways to avoid robbery and vandalism, among other.
But it's not only flash mobs that we like at Factual. There are also cost-efficient, fully feasible solutions that can be implemented to encourage, for example, the use of bicycles over gas-guzzling vehicles. One of our favourites, which has even made it into our homepage ;) is London's Cyclehoop, who have created an eye-catching, car-shaped bike rack that provides for 10 bicycles in a standard car parking space, with the bold outline of a car that demonstrates the space efficiency of bikes.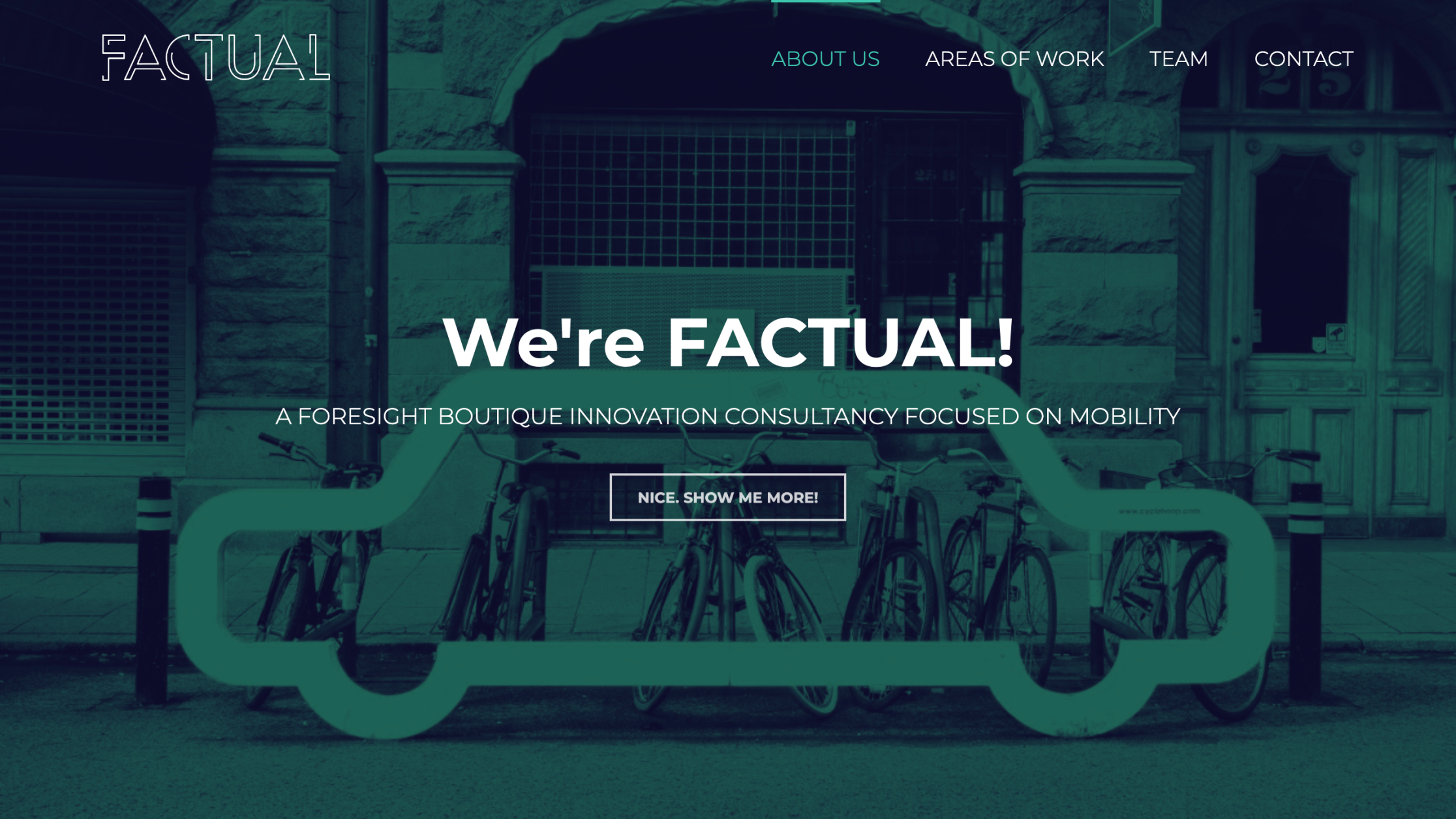 What's common to all these initiatives is a bold, critical statement about the use of public space, to highlight that we use prime real estate in our cities for cars, and that we can (and should) rethink streets to make them more people-oriented, healthier, and liveable. And what's more: by being creative such projects (and many more) can be realised without huge infrastructure and marketing investments, striking a responsive chord with end users (the power of word-of-mouth, amplified by social media) and decision makers at city level alike, ultimately delivering a neat, positive impact to society.
Mobility is at the heart of many of the most pressing issues facing people, cities, and our planet, so the need is real, but a number of unique dynamics conspire to make mobility innovation really challenging. By recognizing and navigating these obstacles we can deliver far more effective solutions at far greater scale. And generate long lasting impact. With transportation being the source of many negative externalities – air pollution, road safety issues, traffic congestion, etc. – innovators have a responsibility to society to do more.
Every startup needs to pay good attention to performance metrics such as Customer Acquisition Cost (CAC), retention, churn, Life Time Value (LTV), revenue, activation, virality, etc. These will be typically closely monitored by any VC considering the possibility to invest their money in a startup, regardless of the sector it operates in. So, simply put, private investors are hungry for startups that are able to monetise rather soon and scale fast, so that at some point they can exit with good profit. That is mainly the kind of impact they're willing to achieve (and it's totally fair). Saving the world can wait.
What is so engaging about working in the mobility space is that many innovators with whom we (like so much to) work at Factual combine both the ambition to become profitable businesses, and so are successful in raising private investment, with an appetite for delivering a positive impact to the world we all live in. We argue that quantifying (societal, environmental) impact is much harder than monitoring Monthly Active Users, as some expected results can take years to fully realise. Perhaps it'll be easier to understand if we illustrate this with an example…
Suppose you're selling a solar-powered smart personal mobility device and are keen to know about the impact you (will) create. Using such a clean, unlimited, unregulated source of energy can logically be deduced as an indication of positive causal impact without the need for a more involved methodology. … But if you're hoping to say something about increased productivity, because you expect your customers will get around more conveniently, or faster, you're going to need much more involved research.
Indeed, the nature of the funding for every startup poses one of the greatest challenges: while startups are normally built on raising private investment rounds, they might as well apply to public funding, such as from the European Commission, or EIT Urban Mobility innovation calls. But, while VCs tend to require detailed plans, predictable results, high ROI, and limited flexibility, this often is rather opposite of what is needed for mobility innovations that deliver long-lasting societal impact, and contribute to fight climate change, which are some of the strategic goals of the EC and EIT UM. So mobility startups need to play well on both playgrounds. And here Factual can help!
Today, Factual has liaised with Barcelona Activa and EIT Urban Mobility to conduct a workshop on "impact metrics" with the five mobility startups shortlisted for their acceleration programme, namely:
The workshop has served to identify and discuss, in an interactive session with practical exercises and loads of interesting exchange of insights with the participants (all founders), the nature of both quantitative and qualitative KPIs (and reliable sources where to get the data needed to obtain them). We have analysed tools, strategies and methodologies to assess the societal and environmental impact delivered by mobility startups.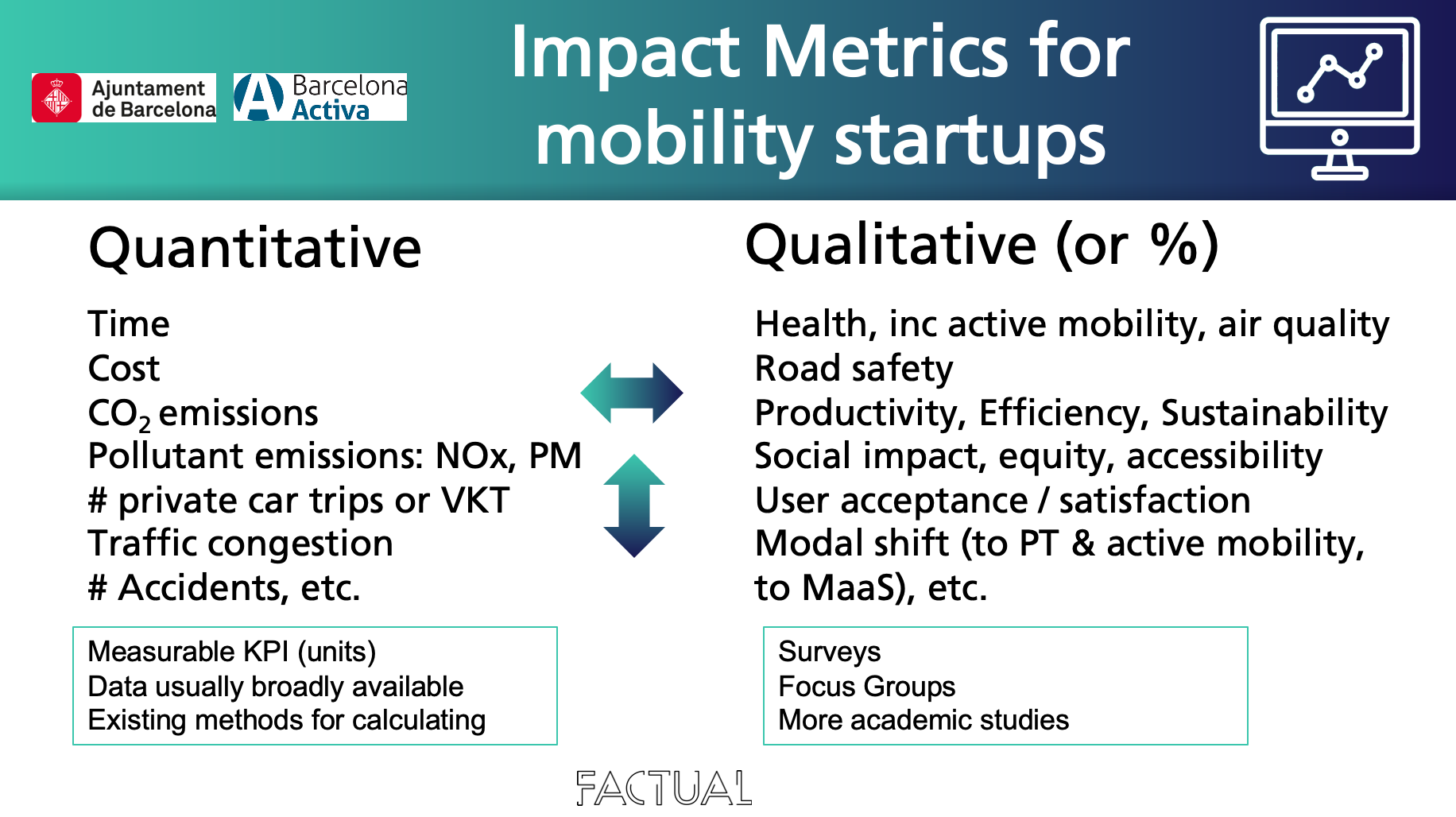 Perhaps, after all, the main problem with measuring impact is that we've allowed ourselves to believe that understanding social performance of mobility-related startups could be a complex, academic exercise separate from business operations. It needn't be.
It's true, the kind of data we need for assessing impact is distinct from commonplace customer feedback: things like product-market fit, customer loyalty, and sales funnels. Like any other business, successful mobility startups must also capture information about these customer "wants". Additionally, they should laser in on what customers "need" from a social perspective, e.g., what positive externalities might have been created, or whether more marginalized groups – such as the elderly, the non-digital native, people with reduced mobility, people with low income, etc. – can access their product or service.
As a wrap-up, we have concluded with the following tips or inspirational thoughts for any mobility startup:
Sustainable mobility not "Black or White": the environmental impact of mobility is not a Scarlet Letter defined by the CO2 emissions figures on each individual vehicle. Beware of "greenwashing" campaigns, dubious carbon offset strategies, or void PR. Win the hearts of your customers, both public (decision makers at city level) or private (end users, companies), know your audience well and deliver credible statements. Stand out among your competitors by showing leadership, promote "sustainability by design", educate stakeholders. Strengthen your brand.
Develop "case studies" or "success stories", share real-world examples how you're providing added value to your customers, and whenever possible provide actual figures on the impact you're unlocking, whether it's time or CO2 saved, or increased productivity. Also, publish white papers, these will build confidence and trust among your customers as you'll have the possibility to demonstrate how you champion your idea of a more efficient, sustainable mobility, and know what it takes, so that you're able to write a compelling report about it.
Address policies, know and play the rules where you operate, both at local / city level, and at European level. Show that you're well aware of regulations and policies, and that you're willing to cooperate. Demonstrate that your product or service is "future-proof", including sensible aspects such as GDPR compliance (here is a handy resource in case you need to conduct a Data Protection Impact Assessment).
More listening, less metrics: there's a tendency in impact measurement to jump straight to defining a bunch of metrics for performance (and certainly sometimes you cannot avoid doing so). One reason this is tempting is that we are taught to do this for financial and operational performance (think of pitching your startup to a VC). But impact is different. At the beginning of your measurement journey embrace qualitative approaches, asking open ended questions about your customers' lived experience.
A theory of change is your frenemy: it seems that every startup has a nice flow chart which describes the end impact they will make based on the inputs they use. If they're used well, they're great. If they're used poorly (as they quite frequently are, especially with some early stage startups), they give us false comfort that the theory holds without the need for actual go-to-market. Don't be all smoke and mirrors.
Keep your impact measurement light and inexpensive: perhaps most important of all is to design short and snappy surveys. There is an enduring temptation in research to add just one more question, and impact measurement is no exception. Resist it. Whenever possible, rely on trustworthy sources of data and statistics. There is plenty of them, and there is no need to re-make all the indicators you place on your pitch. Save time for what is imperative.
Worry about bias, but give yourself a break on statistical significance: when you're first collecting data, bias should be your biggest concern. Common reasons for bias are designing (mis)leading questions, or inadvertently surveying an unrepresentative sample when conducting your market research. But you're not writing a thesis, so being a startup you don't need to worry too much about achieving 95% statistical significance. Some data is typically better than no data.
We ourselves are entrepreneurs at Factual, and so are keen to cooperate with daring mobility startups. And grow together. And deliver IMPACT. Which is, ultimately, what we're all here for.