One year ago now uncertainty spread all over with sudden, forced lockdowns, a flood of unsettling COVID-19 news, infection curves on the rise, and the pandemic evolution raging all through the globe. Mobility is one of the most impacted areas by this global crisis, where serious concerns having been raised such as: what will happen with plummeted use of public transport, and the worrying trend of consumers back to private cars? Will shared mobility keep growing, or it will stall? What are the challenges for urban mobility as we realise what it takes to adapt to the post-pandemic world?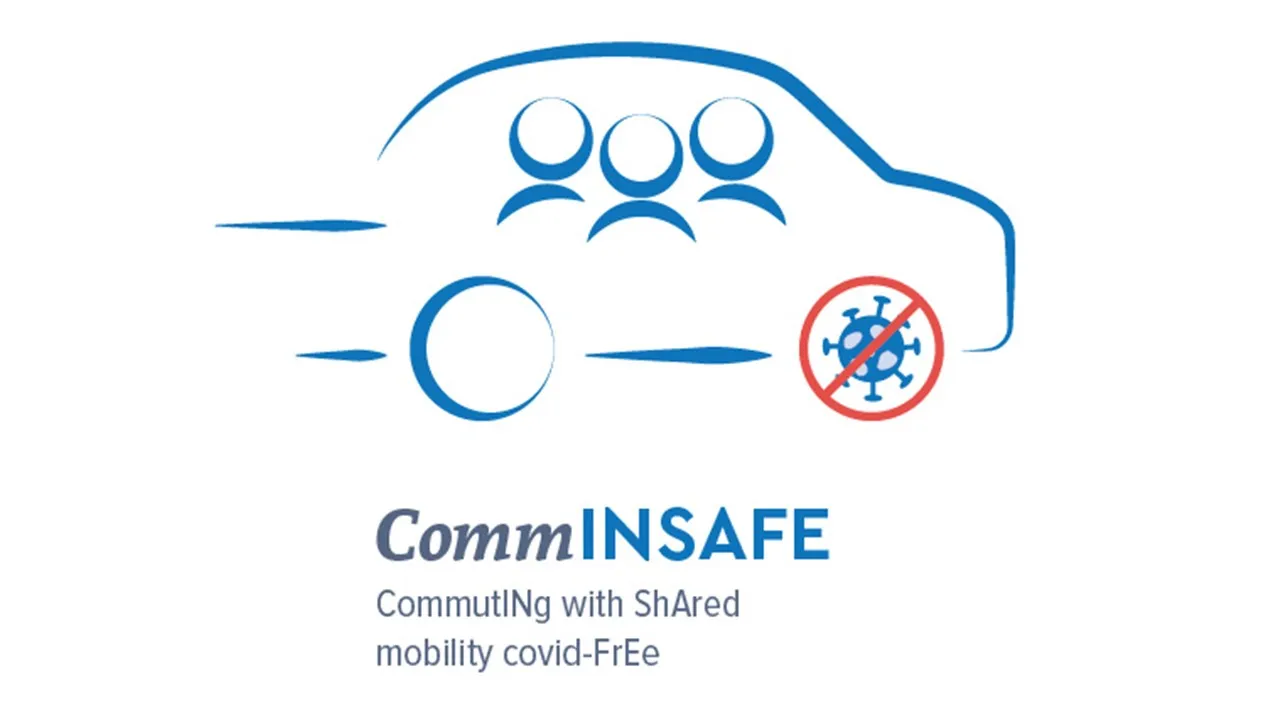 In this context, the CommINSAFE project –an acronym standing for CommutINg with ShAred mobility covid-FrEe- was submitted to a timely initiative of the EIT Urban Mobility as they decided to (re)act, and so make nearly €5 million funding available to support the most innovative ideas as part of the global response to the COVID-19 pandemic. CommINSAFE was one of the eleven selected projects in the Call For Proposals among close to 100 proposals that were submitted involving 317 organisations from 30 different countries. As the project has now come to an end after six months, the results are really promising.
The challenge we have addressed: European countries are facing a severe decrease in the use of public transport, with concerns as to the ability to keep physical distance and ride safely, while at the same time private car usage remains high. With the goal to boost shared mobility combined with public transport, a consortium composed of CERTH, FACTUAL, Sant Cugat City Council, Groupito, KTH and Taxiway started to work on a project proposal focused on how we could restore users' trust in public transport in a pandemic context.
So we decided to focus our Unique Value Proposition (UVP) on commuters, especially those whose jobs do not allow them to telecommute, and so we came up with the idea of offering a mobility service to enable ride-sharing with trusted co-workers who commute to high-density business areas. Indeed, there is an increasing need for safe commuting to workplaces that concentrate many employees, especially to destinations where the available public transport connections are insufficient, or users do not feel confident to use them anymore. This is quite the case of Barcelona and its metropolitan area: the city has 1.6M inhabitants, but its metropolitan area accounts for an additional 1.7M dwellers from 36 municipalities. There are several industrial and business parks dispersed around the Barcelona metropolitan area, within a radius of 20 km from the city centre, and where few mass transit options are available. This situation results in a high share of private vehicles for commuting trips, and with very low occupancy rates.
This dependency on private vehicles for reaching industrial zones or business parks located in an interurban area is the root of many problems for the companies:
Office space: this is related to the need to use (or we should rather say waste) a significant space for parking in their headquarters that could be better used for other purposes.
Talent retention: this is related to the challenge to attract and retain talent linked with inconveniences related to the need to commute to the workplace, where time spent on road congestion and the cost of car use are real stoppers for many employees.
So we were faced with the challenge to react quickly to the spotted need, and within a very short time organise and deploy a corporate mobility service just before the arrival of the second COVID-19 wave.
The solution we have developed, and successfully piloted: we often state that there is no "one-size-fits-all" solution to address every mobility challenge. We decided in the CommINSAFE project to tackle current issues related to daily commuting in metropolitan areas by placing the user at the centre of our proposed solution, and include an innovative, cost-effective COVID-free solution to raise acceptance and trust in a novel, on-demand corporate mobility service based on a technological platform that allows employees working at different companies based in the same business area to book a virtual seat in the more convenient pick-up point and timetable to suit their daily journey to their workplace.
Our proposal combined the efficiency and flexibility of an on-demand mobility service, which was tailored to corporate mobility requirements, in close cooperation with a few companies that helped us recruit users among their employees. The piloted service has great potential for scaling, as commuter trips account for more than 60% of the overall mobility in metropolitan areas such as Greater Barcelona. These are its main components and features:
On-demand: the Ne-Mi application for providing and managing a flexible transport service which includes virtual pick-up points in tailored and flexible routes that connect dense urban areas (where employees live) with the employee's workplace.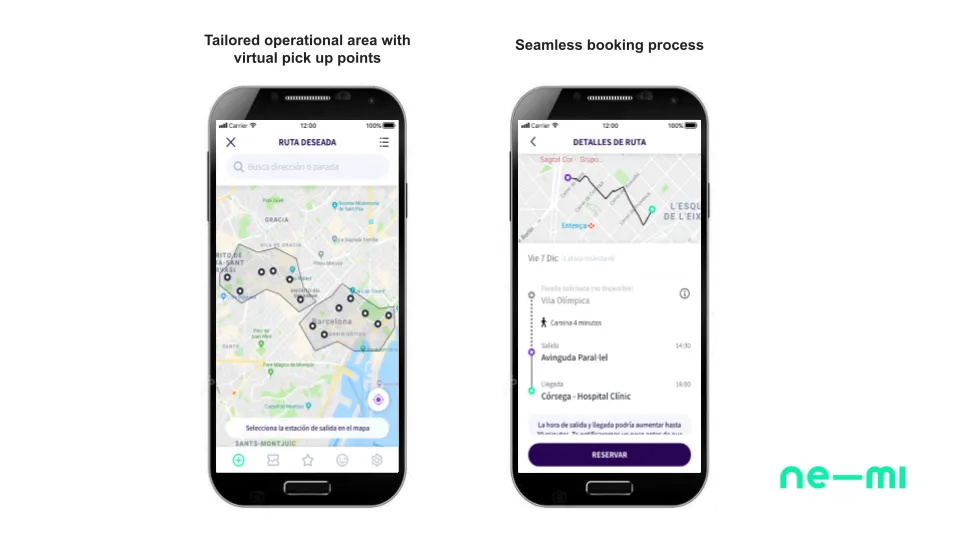 Corporate: the design of the service is adapted to companies that are established in areas that are underserved by the public transport system, such as suburban areas or business parks located away from the city centre, with the particularity that it is tailored for the use by several different companies in the same area, as it is possible to design routes including several stops to drop-off passengers at different final locations.
COVID-free: to make the service even more convenient, especially in the context of the pandemic, the service also included a disinfection system based on modules that diffuse ultraviolet lamps with light at a 222 nm wavelength, which although germicidal is totally harmless to humans. Being harmless, this light can be used while travelers are inside the vehicle.
The pilot test covered the itinerary that connects Barcelona city centre with "Can Sant Joan" business park located in the city of Sant Cugat del Vallès. With more than 12,000 employees who work in the headquarters of international companies, Can Sant Joan is the largest business park in the metropolitan area of Barcelona, and so it generates a large number of daily journeys, even though current mobility restrictions and teleworking recommendations have significantly reduced mobility. The pilot targeted commuters from Barcelona city centre residential areas who work in one of the several companies located in the business park, and lasted for two months under real-world operating conditions.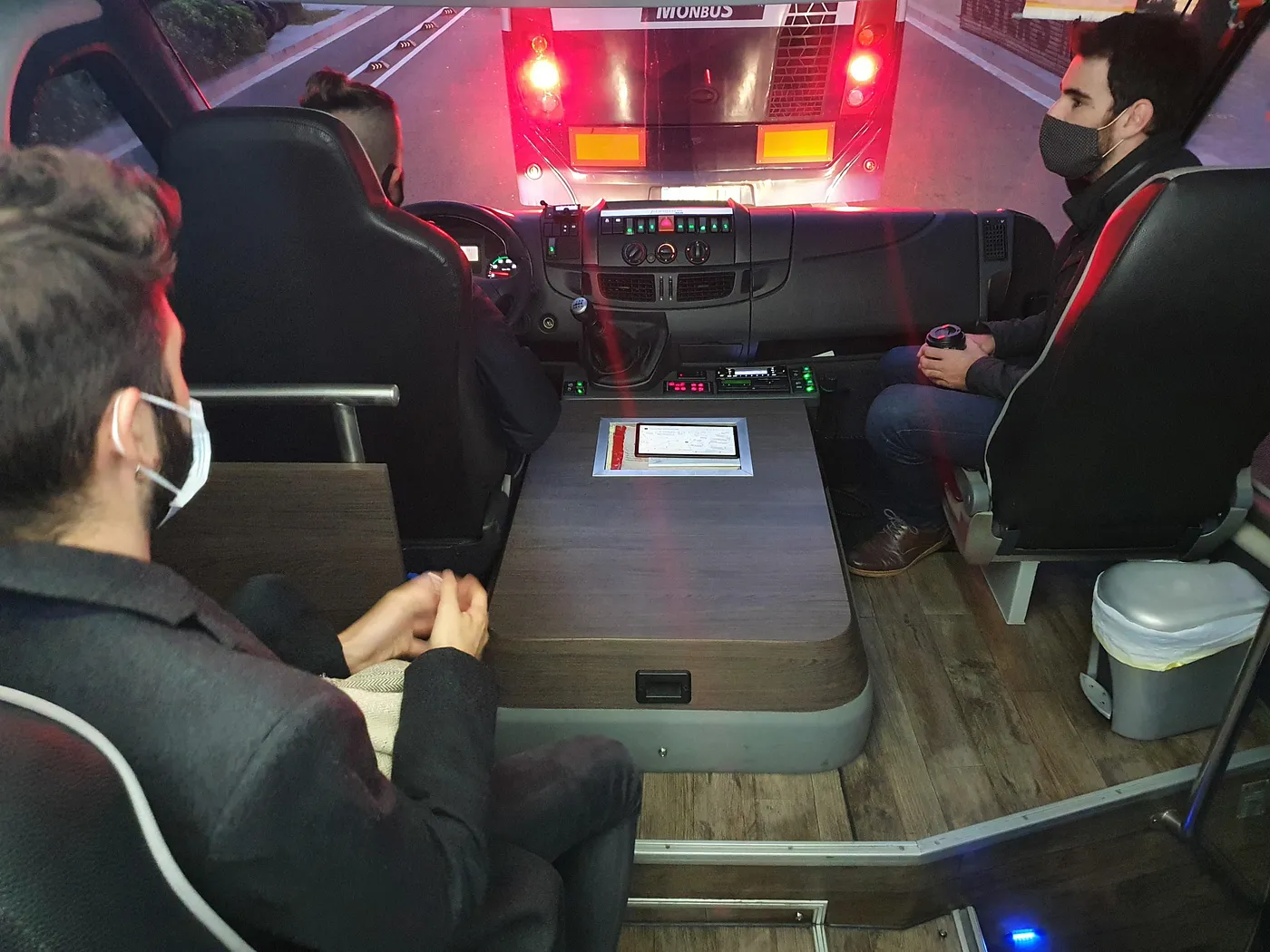 Promising results encourage us to scale the on-demand corporate mobility solution: the corporate on-demand bus service connecting Barcelona and Sant Cugat del Vallès has raised the interest of more than 10 companies and a total number of 96 users, most of which were previously commuting using their private vehicle. After two months of pilot, two types of assessment have been developed by the CommINSAFE consortium: the processing of information regarding the dashboard of Ne-Mi on-demand application, and the surveys that FACTUAL has developed to get insights on user acceptance and potential barriers to deploy such a service, including the willingness to pay from companies who would like to offer and sponsor an innovative, safe, and convenient mobility service for their employees, with the following features and benefits:
Round-trip: the on-demand service app piloted revealed that users generally do not use the commuting service for round-trips, which is a lesson learned and an aspect to consider for future service design and implementation in other locations.
CO2 emission savings: comparing this service to a regular bus line and considering that the previous mode of transport used by employees was mainly private cars, we have estimated that the piloted service has saved 158Tn of CO2 in only two months operating, proving to be a sustainable alternative to private mobility with great potential to contribute to the Green Deal objectives, when scaled. This also pairs well with Corporate Social Responsibility of companies willing to implement different types of policies, particularly those related to provide social benefits to employees, and reducing their environmental footprint overall.
High user acceptance: the level of satisfaction from participant users was revealed through excellent scores in all the assessed attributes, as shown in the following figure:

Moreover, the survey received very positive feedback regarding this new service: "Very good alternative, above all, because it took much less time to get to the workplace, and due to the comfort of not having to make several transfers in public transport" and "I really liked the bus service, it is very comfortable, fast and the booking application is easy to use"
Companies' feedback: decision-makers of companies involved in the pilot, such as HR Managers, have stated that they are very interested in continuing the service operation after the project lifetime, as it is an important asset to retain talent while improving the accessibility of their employees to their workplace. In addition, the average willingness to pay for this service by companies is around 2€ per journey and per employee. This is an interesting figure in order to develop the go-to-market strategy after the project lifetime.
Disinfection systems: the bacteriological tests performed before and after UVC disinfection showed a reduction of more than 97% in the Staphylococcus aureus strain on the contact points for continuous disinfection.
The way forward towards scaling and customising corporate mobility solutions: one of the main characteristics of EIT Urban Mobility projects is their market orientation, and so CommINSAFE successfully fulfilled this objective. On-demand mobility services focused on industrial zones or business areas have proven to be a real market need and opportunity, and will allow FACTUAL to offer a sustainable mobility service that provides a user experience close to that of a door-to-door service (while much more cost-efficient, and safer). Moreover, the possibility to share the bus service among several different companies can help SMEs to take advantage of this mobility option (which otherwise could eventually not afford paying for such a service), together with multinational companies.
We expect that on-demand mobility services will play a key role in future mobility, and effective solutions developed at corporate level can become very relevant: Aurélien Cottet -MaaS project leader at Transdev & Member of the Board of Directors at The MaaS Alliance- has recently stated in the Global Thought Leaders Predictions for Mobility 2021 that "many employers work on the wellbeing of their employees at work, but the life of the employee starts when she or he closes the door of her/his home to go to work. We start seeing big corporate proposing mobility budget to be spent in public transport or shared mobility".
We will see more companies develop creative mobility solutions, especially those that are located in areas that are underserved by public transport, and so we expect huge growth potential for Demand Responsive Transit solutions such as Ne-Mi, which can offer "a way to improve average load factors and accessibility, while controlling physical distancing if necessary".
Moreover, behavioural change of employee mobility habits can be nudged by implementing highly targeted economic incentives, and so we at FACTUAL have developed Rideal, a micro-subsidy calculation engine which can be easily plugged on to any existing MaaS, or Transport Service Provider platform, and so be used by companies willing to implement and manage economic incentives within "mobility budgets" for the daily commutes of their employees, especially those who use sustainable modes of transport.
FACTUAL is a boutique innovation and strategy consultancy focused on mobility. Reach out to us if you want to learn what we're up to!