The white paper explores cybersecurity issues in smart mobility. It aims to understand vulnerabilities, threats, and opportunities, as well as discuss the Catalan smart mobility and its cyber security landscape. It employed a methodology involving a comprehensive literature review, a compilation of real use cases of cyberattacks to mobility stakeholders, and consultations with international experts.
Sections cover the regulatory context, funding opportunities for research & development, international standards, and recommendations for stakeholders to bolster their cybersecurity strategies. The research emphasises the increasing susceptibility to cyber threats due to the integration of digital technologies in the transportation infrastructure.
Key recommendations include adherence to regulations and cybersecurity standards, collaboration among industry players, conducting regular security audits, educating and training the stakeholders on the risks they are facing, and the establishment of incident response plans. Policymakers are urged to create a national cybersecurity strategy and participate in EU initiatives, where coordination and information sharing should contribute to increasing resilience against cyberattacks.
The white paper concludes with the importance of a tailored cybersecurity strategy for smart mobility, emphasising the role of public administrations and Catalonia's potential as a relevant player in Europe by implementing these strategies.
The transformation to smart mobility is described as a response to challenges in the traditional transportation system, but the digital transformation poses cybersecurity risks, as evident in rising cyberattacks on the transport sector. The urgency for stronger cybersecurity is highlighted, considering societal and safety concerns associated with cyberattacks on smart mobility systems.
The study was unveiled by the Cybersecurity Agency of Catalonia in parallel to the 2023 edition of Tomorrow Mobility.
Authors: Josep Laborda and Pietro Podestà (FACTUAL), Santi Romeu (Cybersecurity Agency of Catalonia)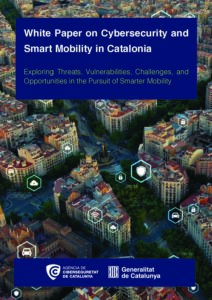 Download the report
Download the report