Spoiler alert: hungry readers eager to get a binary, uncritical "Yes" or "No" to the clickbait question posed in the title of this article, read no more. Answer rather be: "It depends"; or, less sceptically (as I tend to be, for this matter): "There is great potential".
The mobility sector is infamous for its lack of trust, and this is only going to get worse as it gets increasingly crowded (and thus, fragmented) with new digital-born, VC-backed TNCs and other disruptive entrants competing with incumbents for a piece of an appetising cake worth more than $1 trillion for MaaS globally. The mobility ecosystem is therefore more intricate than ever, and in many cases unfortunately still far from allowing a good fit between the available transport offer (significantly, public transport, ideally combined, not confronted with shared and on-demand personal mobility services) and the evolving consumer needs and habits, with different stakeholders that often follow radically opposed strategies to provide relevant mobility services, target "their" users / customers, and remain ultimately economically viable. This generates controversy (to say the least), especially when the legal, regulatory, and competitive statu quo is challenged, or when strategies seeking to maximise private profitability and market relevance collide with societal concerns, such as ensuring overall efficiency and fair use of the mobility infrastructure (not to mention arbitrary political decisions).
Unfortunately, I'm afraid blockchain will not alleviate any of the previously stated common issues affecting urban mobility that are inherent to the structural complexity of the sector .
Where there is wider consensus (both from the public and private sector) is in the indisputable need to digitalise mobility, as citizens are increasingly expecting information and seamless access to mobility be granted through apps in their smartphones. Currently, each Transport Service Provider (TSP) is building their own centralized, costly IT infrastructure and app to allow users find their available offer (be buses, taxis, shared scooters, bikes, etc.), book (if applicable) and pay, and in many cases also go through an initial, tedious sign up process. But consumers are increasingly not loyal to a single brand (TSP, in our case), they want to have the ability and freedom to choose the right transport service (or seamless combination of transport services), anytime, to get from A to B in cities.
Mobility as a Service is a new paradigm already tackling the opportunity to provide frictionless access to a range of TSPs as an overall viable alternative to the privately-owned car. From the MaaS operator perspective, this implies the hard work to integrate different APIs from each of the TSPs it aims to include in a mobility bundle, interfacing with each of them to acquire information on the available vehicles, and implementing key business processes, namely booking, unlocking of vehicles, payment, billing; plus, onboarding of new users and journey planning features. In turn, each individual TSP (which provides car-sharing, car-pooling, bike-sharing services, … you name it) also implements same business processes to address "their" users. And, on top of it all, there is the business model, a hell of one-to-one contracts dictating the business terms how the MaaS operator and each TSP get their split of the generated value (retain this key concept: "value"), and how other important aspects are managed, such as liability, SLAs, data privacy, etc. This is where blockchain might come into play, as I have quite extensively analysed in an earlier article.
With some worth mentioning exceptions, such as Finnish pioneer MaaS Global, that have released an open specification aiming at standardizing interfaces with TSPs, most MaaS operators and TSPs alike are building their own proprietary, centralized IT systems. While centralized systems do hold some undeniable strengths, and will continue to be the preferred option by many stakeholders, who feel more comfortable within their walled garden (an arguable "sense of control" and reliance on more mature technology, articulating business strategy "the old, traditional way"), blockchain foundational characteristics offer an unprecedented opportunity to streamline transactions between the different players in the mobility ecosystem under a transparent, traceable, robust and secure environment, where players adding real value will be evenly rewarded, eliminating costly intermediaries such as payment gateways, automating business processes through the execution of smart contracts which, unlike conventional contracts, are code that executes when given conditions are met, thus allowing for more straightforward P2P, B2C, B2B, but also Person to Machine, and Machine to Machine interactions, unlocking new dimensions of value creation.
Clearly, blockchain technology offers countless opportunities in the mobility sector. However, the translation into real business value will be driven by industry adoption and will evolve over time. This is why development of use cases, Proof of Concepts and pilots are the way forward.
Blockchain: hype, hope, and everything else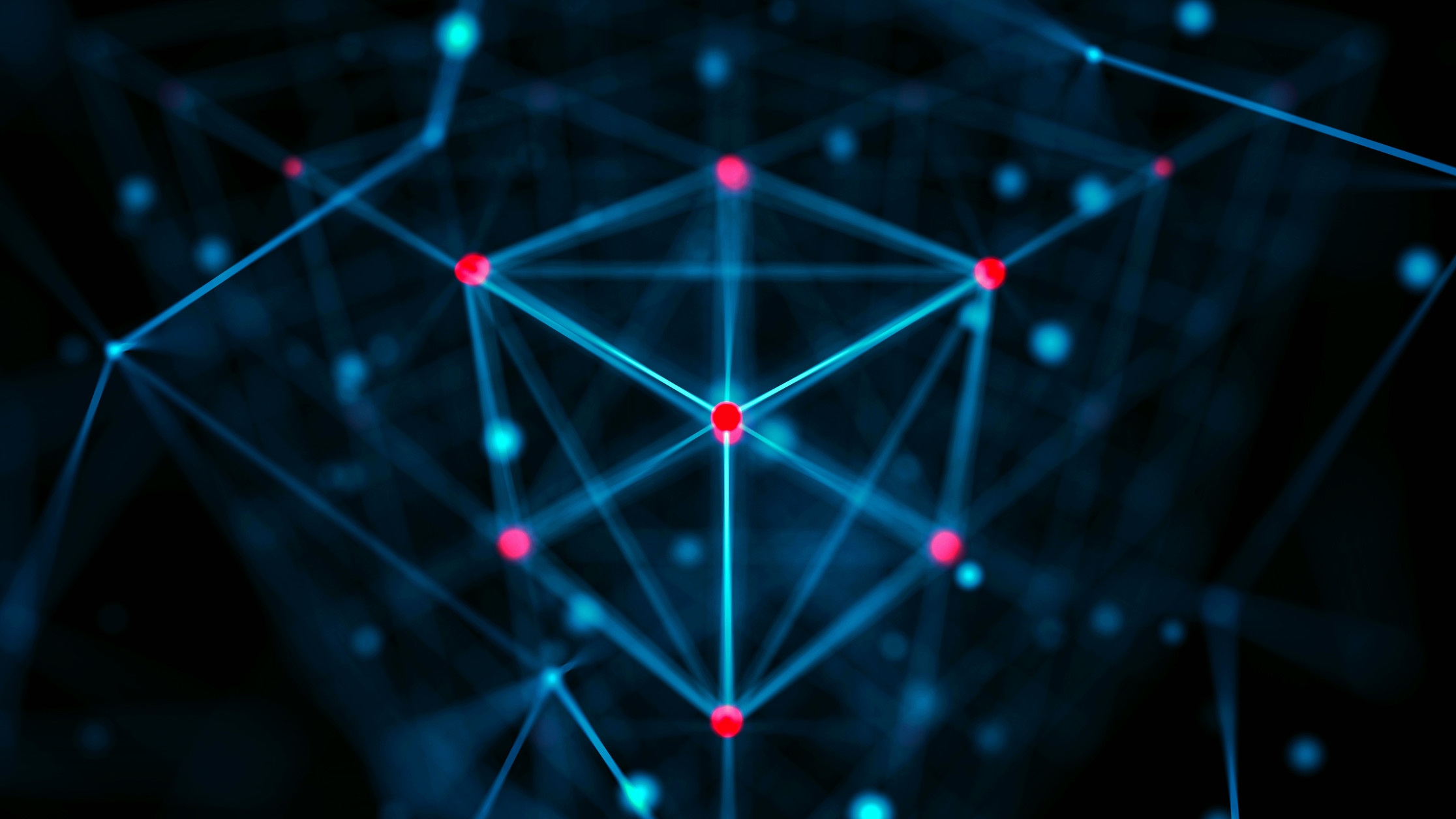 Back to the title of the article… Is blockchain the "silver bullet" solution to urban mobility? In it, the question mark already anticipates a critical analysis over the often overhyped application of blockchain to disrupt nearly everything. Well, no, blockchain is not a magical wand. Following are some humble recommendations in case you are faced with the quandary when/whether to consider blockchain for your project:
First and foremost, you should thoroughly analyse whether blockchain is the most suitable alternative to your use case or project (and, let me add, to your company culture), from the technical, economic and legal perspective. So, the first challenge is, you better have a savvy technologist, a seasoned business strategist and economist, and a keen lawyer in the room, who are capable of formulating more than trite statements about blockchain picked from Twitter (leave aside finding skilled developers, in case you are finally determined to opt for blockchain); this is not to say non-blockchain-based projects do not also require a multi-disciplinary team behind, but often roles in teams are blurred (a manager wearing more than one hat, for instance, playing both the role of the technologist and the business strategist; or legal departments which do not dare to move out of their comfort zone and areas of expertise – think taking the issue of blockchain and GDPR, and many will collapse).
A resource that will come in handy in this assessment process is the excellent paper published by the Frankfurt School Blockchain Center, which makes a proposal for the evaluation and categorization of blockchain use cases, with special focus in the mobility sector. Also, extremely insightful is 'Blockchain Beyond the Hype. A Practical Framework for Business Leaders', a document written by the World Economic Forum "designed to assist executives in understanding whether blockchain is an appropriate and helpful tool for their business needs". Kind of funny, and obviously not the ultimate tool, you might as well try this online wizard driving you through some very elementary questions, finally coming up with a binary (yes, binary) answer on the suitability of blockchain for your project: Do You Need a Blockchain?
Scan what others are working on in the blockchain space applied to mobility, the kind of use cases being developed (a list follows, in this article: is your use case in the list? Indeed, but not running on blockchain? Have you considered why, or how blockchain or other distributed ledger technologies could improve your use case?); learn how other peers are leveraging blockchain technology, the readiness level of their projects (under development, available PoC, launched commercially); focus not only on your direct competitors, extend your research to startups; learn where investors are placing their bets; participate in industry consortia; attend conferences, and more importantly, mingle with other professionals, follow them in social media, read and share their publications, spread the knowledge. And dare to try.
Mobility use cases to leverage blockchain
Beyond its hyped debut in the financial sector as the basis for cryptocurrencies (bitcoin remaining the most widely known one), blockchain has soon proved to be an exponential, promising technology poised to disrupt almost every other industry. Thinking of mobility, many use cases could qualify for the application of some sort of blockchain-based approach. Namely: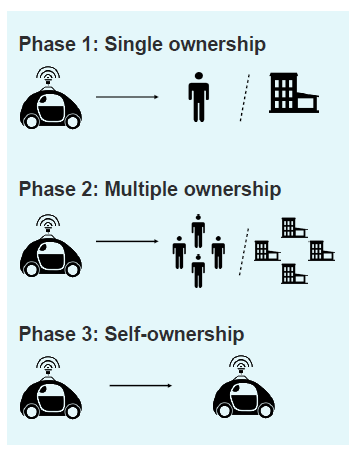 Integrated Car-Wallet entitling vehicles to place fast, secure and automated payments, by means of smart contracts, of anything related to their mobility needs, such as (not exhaustive list): EV-Charging; Tolling & Road Charging; Parking; Insurance; Repair & Maintenance; V2X payments; etc. The ultimate realization of the above use cases in AVs powered by AI and connected to a smart infrastructure is the so-called "Self-owned car", a rather dystopian concept of a financially independent entity capable of interacting with users (to provide rides, typically) and the infrastructure, without any human intervention. A concept that goes far beyond the current level of disruption over ownership models.
All forms of Shared Mobility: car/bike/scooter/moped-sharing, ride-sharing, car-pooling, ride-hailing, demand-responsive transit services could run on blockchain and smart contracts for all business processes needed. Interestingly, blockchain also allows for establishing marketplaces where users' behaviour can be incentivized through tokens holding an intrinsic value within the context of operation of the mobility service, for instance to reward them if they charge vehicles, redistribute the fleet to meet other users' current or expected demand, or if they are willing to share anonymised data on their mobility patterns under a trusted environment (so that these data can in turn be used, for instance, by any stakeholder providing mobility services in the same area to streamline their operations). Needless to say, tokens have endless other applications to engage users and other stakeholders in more lively, smarter interactions.
Data Sharing & Management leveraging the incorruptible, trusted ledger on the blockchain allows for secure and transparent transactions involving the exchange of data to be used as fuel for various applications:
Usage Based Insurance: writing driving data securely on trustable ledgers will allow for optimized risk premiums calculation and superior traceability in case of incidents, such as accidents.
User Profile: driving track record (e.g. for UBI schemes and fleet management systems) or mobility patterns; user identity and validation: e.g. decentralized validation a user holds a valid driving license allowing him/her to use a shared vehicle (plus many other validations, such as a given TSP allowed to operate in an area); user preferences, that could be roamed into other vehicles, for example when carsharing across different operators.
Data recording and sharing: "digital twin", i.e. tamper-proof recording of data linked to vehicle components on the blockchain can have many applications, such as avoiding fraud in the second-hand vehicle market (like e.g. odometer data manipulation) and increase efficiency of repair workshops that can have better traceability of vehicle parts for maintenance purposes; AV Driving Data Marketplace: the development of safe and reliable AVs requires a huge amount of driving data, a tokenized, trusted, secure data marketplace underpinned by blockchain, where different OEMs and research institutions can exchange data from their experiments with AVs with other stakeholders, can contribute to shortening overall development and testing times, and bringing autonomous vehicles, and all the expected related benefits of this technology, closer to becoming mainstream. Moreover, modern vehicles can record all sorts of data, both from the vehicle characteristics and performance, from the surrounding infrastructure and other road participants through their sensors, and from passengers, as well. The unique, distributed and incorruptible blockchain ledger is a very efficient mechanism to expose all these data to many other applications.Moreover, modern vehicles can record all sorts of data, both from the vehicle characteristics and performance, from the surrounding infrastructure and other road participants through their sensors, and from passengers, as well. The unique, distributed and incorruptible blockchain ledger is a very efficient mechanism to expose all these data to many other applications.
Blockchain is not a "universal weapon" but a toolkit holding great potential for the realization of pieces of complex systems…
… but it might not always be the most suitable or feasible solution for each and every part of such scenarios. Think, for instance, on the self-owned car and the many different sub-use-cases or situations it will have to handle (some features, such as e.g. parking when idle or charging might simply be unfeasible if the infrastructure is not smart enough – or is temporarily down for technical maintenance – in the area where you want to deploy a fleet; then, you better have some human beings taking care of the operation of the fleet rather than deploying it and let the blockchain do all the magic).
Now, let's review the kind of projects the industry is actually working on which implement some of the use cases and applications of blockchain described above in a more theoretical way. This way you get a more realistic overview on the state of the art and actual use of blockchain in the mobility sector by companies, startups, and industry consortia: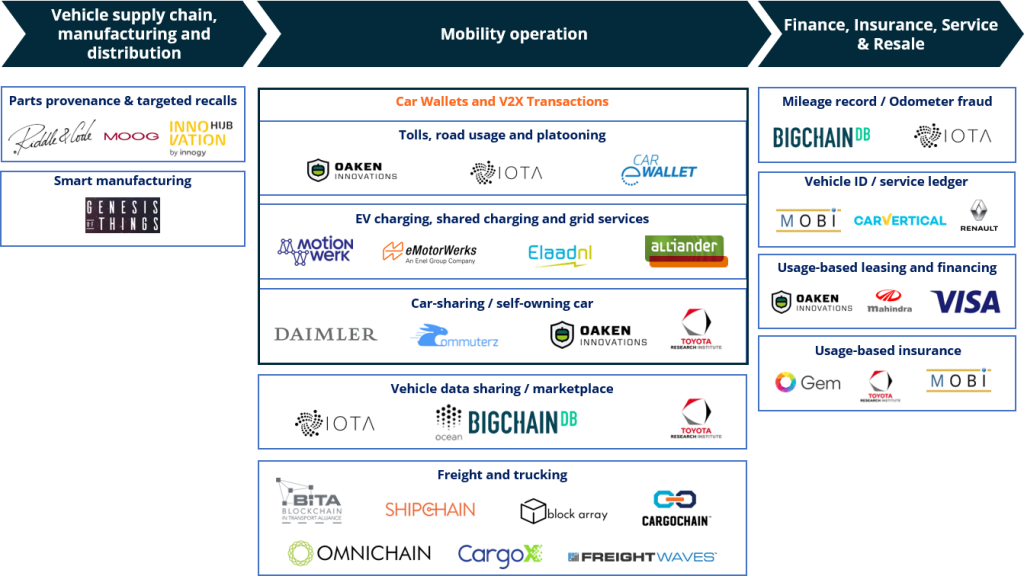 Not featuring and worth adding to the above visual representation of companies and startups in the blockchain-for-mobility scene:
Final remarks and some of the "buts"
Being clearly a nascent (yet promising) technology, and on its way to mature products and services, various challenges concerning technical, economical, and legal & regulatory issues are still to be overcome by blockchain. To name just a few, here is a non-exhaustive list:
On the Technical side, blockchains are widely known to suffer from:
High latency: transaction time for some mobility-related use cases will need to be Real-Time (or close to Real-Time), but in many blockchain implementations newly added blocks do not automatically become part of the global blockchain. Beware of this!
Low information throughput: the amount of information that a decentralized blockchain network can process per second tends to be significantly lower than on traditional centralized networks. This might be a drawback under some circumstances, if your system is expected to scale.
Limited "on-chain" storage capacity: blockchains are not designed for big-data storage, as each new piece of information requires additional storage capacity from all participants that keep a copy of the blockchain. So, you probably will still have to rely on traditional databases, for this matter.
Lack of standardization and a mess of different implementations out there. Should I use a public, semi-public or private blockchain? Which governance and consensus mechanism is used in my chosen blockchain? What are the implications? ISO/TC 307 on "Blockchain and Distributed Ledger Technologies" is expected to deliver some guidelines not before end of 2020…
Etc.
On the Legal side, some question marks:
Issues with GDPR compliance and other local regulatory and legal frameworks need to be tackled on aspects such as: data privacy and "visibility" of data in public blockchains, where an explicit authorization from the "data owners" to make data available to other participants is required; according to GDPR "all personal data must be able to be deleted anytime", but… deletion of personal and encrypted data nearly impossible, by design, in blockchains…
Are smart contracts legally binding under all circumstances…?
Etc.
On the Economic side, profitability needs to be expected (of course!). Despite global expected market for MaaS is huge, business models and profitability are widely known to be difficult to realize for mobility services in general (see, for instance, large unicorns such as Uber and Lyft that have yet to prove to be viable businesses). Some additional issues when blockchain is leveraged are:
Transaction costs under blockchains are determined by many factors, and not always these are easy to quantify and include in your business plan.
"Cryptoeconomy": dependency on cryptocurrencies, which are unstable and have a fluctuating "value" might hinder the viability (or credibility) of your business plan, too.
Etc.
As they say, "Eat the elephant one bite at a time". So, when you define the roadmap for your next elephantine (mobility) service (or work on the next generation of a current service), you better identify, selectively, where and why you might use blockchain. And then, go for it!
About the Author: Josep Laborda thinks mobility against the box @ RACC Automobile Club. Mobility not black and white: want both taxi and Uber in my app. He writes fiction, besides technical stuff. Future mobility often sounds like sci-fi, which is great. He loves wine, human towers and photography (not necessarily in that order). More on him: check @josik35 at Twitter and Instagram. Grown-up, views are his own.
References:
[1] 'Analysis of Blockchain Technology in the Mobility Sector' – Martin Gösele & Philipp Sandner, Head of Frankfurt School Blockchain Center
[2] 'Reimagining Mobility With Blockchain' – by Arwen Smit, CEO MintBit
[3] 'Autonomous Datasets and V2X Transactions: Blockchain in Mobility Pilots Getting Traction' – by Jules Besnainou, Director Cleantech Group
[4] 'Goodbye car ownership, hello clean air: welcome to the future of transport', World Economic Forum
[5] 'Mobility as a Service (MaaS) and Mobility on Demand (MOD) via Blockchain', by Boyd Cohen, CEO IoMob
[6] 'Blockchain meets MaaS: what's next?', Josep Laborda, Intelligent Mobility Project Manager RACC